Low Sodium Pantry Items & Salt Free Foods Guide
This low sodium pantry items guide  is full of salt free ingredients that are always on the menu!  Having a well-stocked and organized pantry is the foundation to building simple, healthy, and nourishing low sodium meals.  We rely daily on salt free ingredients of all kinds: rice, vegetables, pastas, flours, fruits, and some surprising items you would never guess were shelf-stable.
Knowing what you have on hand and being able to see what you have at a glance will help with meal planning, meal prep, and shopping. When you can: buy in bulk, and buy on sale.  I get a lot of questions about what ingredients we personally use here at LowSoRecipes, so I've included links to the exact items that we keep in our cupboards.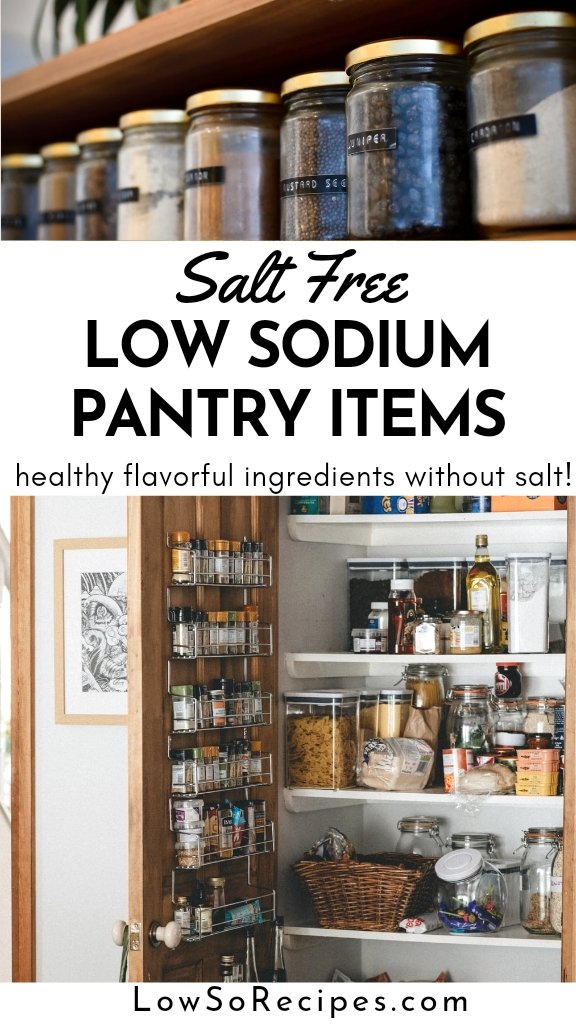 Low Sodium Pantry Items for All Your Meals!
Keeping low sodium pantry staple ingredients on hand is great for any family meal: breakfast, lunch, dinner, or dessert.  I usually start my meal planning by picking a pantry staple (oats in the morning, beans for lunch, spaghetti dinner, etc.) and building the rest of my menu around that.
This guide has our staple low-so brands for all your meals. Whether you're now to low sodium cooking, or are a seasoned pro, you'll likely find some amazing new favorites below.
Breakfast & Baking Pantry Staples
I'm adding these in a section together as I tend to bake quite a bit for breakfast: pancakes and muffins are often in our weekly recipe rotation.  In our house, breakfast and baking go hand-in-hand.  You can build simple and health breakfasts using low sodium pantry staple ingredients as well as any fresh produce you have.  Oatmeal, pancakes, muffins, breakfast bowls, and smoothies are fantastic ways to start the day!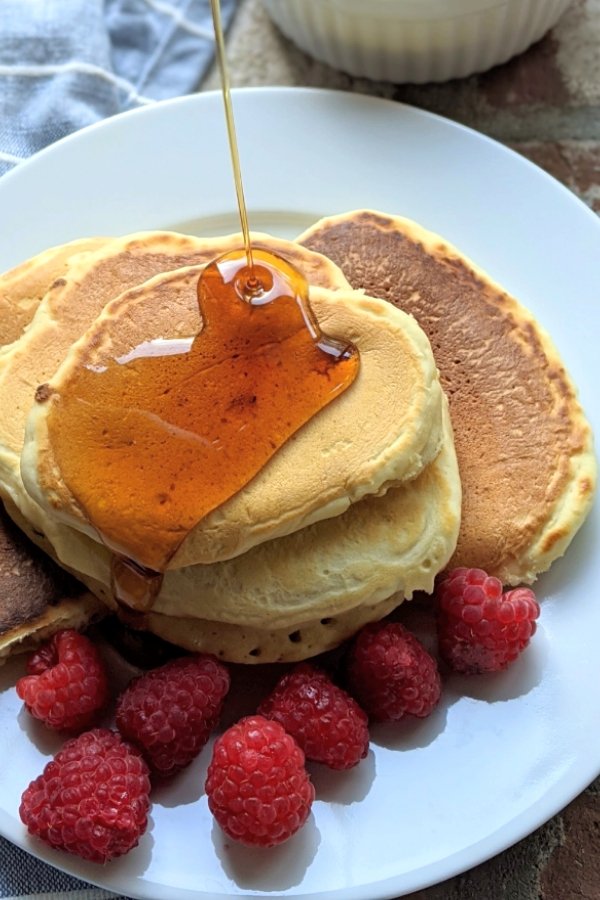 Low Sodium Pancakes utilize salt free pantry staple ingredients for an amazingly delicious breakfast that the whole family will love!  
Pantry Staple Breakfast Ingredients
Low Sodium Baking Ingredients
Pantry Staple Fruits
Jarred, canned, and dried fruits are a fantastic addition to your well-stocked pantry. While I normally prefer fresh fruit, there are some great vegan pantry staple ingredients for getting the nutrients from fruit that you need. I make smoothies with banana and papaya powders, and add canned and dried fruits in desserts and baking recipes.
A quick note on canned fruit: if you do buy canned fruit, aim for a no sugar added variety, or one that is packed in juice. Avoid canned fruit that is packed in heavy syrup… that way you can control the amount of added sugar you are bringing to the table.
Low Salt Pantry Staple Proteins
This is one category I get super excited about. You can build a healthy protein-rich diet with a few classic pantry staples.  There are more than just beans here!  I love adding shelf-stable tofu to soups and stir fries.  And TVP is the foundation for our weekly taco nights.  You can even get some extra protein in with your breakfast, here are some great vegan pantry staple ingredients  below.
Beans
I am breaking out beans into their own protein category because there are so many amazing options!  Beans are the building blocks of soups, stews, and taco nights for us.  Super versatile, beans can be eaten for any meal of the day: in a breakfast burrito, in a wrap at lunch, or in a thick and hearty soup for dinner.
You can stock either canned or dried beans. I tend to focus on dried as I cook a weekly batch of beans up on my Instant Pot in under an hour.  If you do get canned beans, make sure to get a low sodium variety.
Here are some legume varieties I always keep on hand:
Low Sodium Canned Tomatoes and Vegetables
Canned vegetables tend to get a bad wrap… but as you will see below, there are some fantastic options for shelf-stable vegetables.  These yummy and nutritious additions to your pantry will brighten up your plate.  While I tend to cook with a lot of fresh and frozen vegetables when they are available, my pantry is always stocked with the below vegan pantry staple ingredients!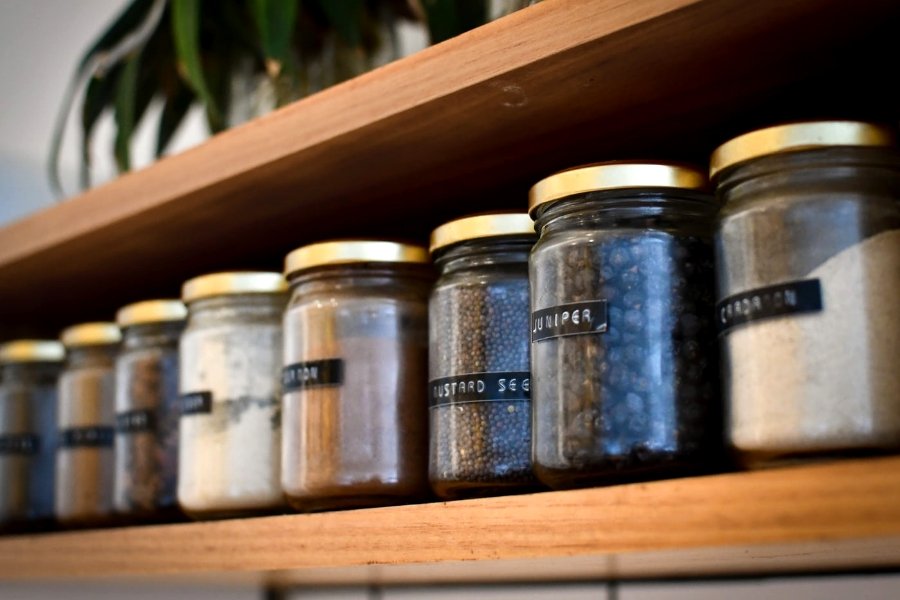 Pantry Staple Salt Free Spices We Buy In Bulk!
OK my list of spices could probably be about 100 items long,  so I'll narrow it down to my top 10 most-used spices.  We regularly use the basics: garlic powder, onion powder, chili powder, cayenne, red pepper flakes, everything bagel seasoning, flavored salts, basil, thyme, oregano… the list goes on!  Since we tend to cook low sodium dishes, spices are a fantastic way to make any recipe shine.  Here are a few of our favorite spice blends below:
Salt-Free Lemon Pepper Seasoning

– this

salt free lemon pepper seasoning

is one of our favorite low sodium spices! It brings a ton of flavor from real lemon and pepper corns, and is SO good in this recipe.

Herbes de Provence: this is my favorite and most used spiced blend!  This is a wonderful savory French mix of aromatic herbs and spices. I use it in soups and for roasted vegetables.
No Salt Steak Spice:

Our favorite spice blend,  probably the one we use most in our home!

This Steak Spice is a blend

of garlic, pepper, oregano, crushed pepper flakes, and a little dill for an amazing flavor.  Great for potatoes, meat, vegetables, pretty much anything!

Chili Powder
Onion Powder
Nutritional Yeast: Great for "cheesy" flavor, we put nutritional yeast on pasta, popcorn, and in sauces.
Garlic Powder
Mustard Powder: I like this classic Colman's brand, excellent flavor
Adobo Spice: a low sodium version like this one is great on fajitas and queso!
Garam Masala: a classic spice for Indian curries and ayurvedic dinner recipes
Low Sodium Bouillon: this no sodium version is perfect for when you need a quick soup broth but don't have any on hand
Tellicherry Pepper corns: the best flavor for freshly ground pepper!
Pantry Staple Grains and Rice
Rice and grains are the one area of the pantry where you can really buy in bulk!  We normally buy rice in 20 lbs bags, and keep the rice in airtight containers for quick usage.  Rice are great as a standalone meal (hello fried rice!), make a healthy and spicy side for Taco Tuesday, and go great with stews and curries. We use grains in the same way, I love adding quinoa or barley to a soup to thicken.  Rice and grains can be nutrient-rich and healthy additions to any diet… plus are inexpensive vegan pantry staple ingredients that you can stock up on and buhy in bulk.
Pantry Staple Grains
Pantry Staple Rice
Pantry Staple Pastas
I love mixing and matching my pastas with different sauces and soups that I make.  I always make sure to have an assortment of fun pastas on hand to match any sauce I feel like having. White wheat, whole wheat, veggie pasta, rice pastas, and bean pastas all have their own place in my kitchen. Here is a good guide for what to have on hand- if possible, try to have one from each category.
Short pastas: Macaroni, Ditalini, Orzo
Medium pastas: Penne, Rotini (especially tricolored for pasta salads), Medium shells
Long pastas: Bucatini, Fettuccini, Linguini, Spaghetti, Lasagna noodles
Fun and unusual pasta shapes: Radiatori, Gnocchi, Rigatoni Cavatappi for a good time
Thin Rice noodles for pho or my Mason Jar Ramen noodle soup recipe.
What About Canned Soups?
I left out canned soups on this list for a few reasons.  First off, I don't buy them.  They are loaded with sodium and are generally not something I want to eat on a regular basis.  And second, when I want to make a big hearty pot of soup, I can do it with using plenty of pantry staples on this list.  By adding beans, rice, pastas, vegetables, vegetable stock and spices, you can easily make your own soup instead of buying canned. I have some great soup recipes you can browse through on this site, so I'd recommend trying a few out instead of reaching for that canned soup.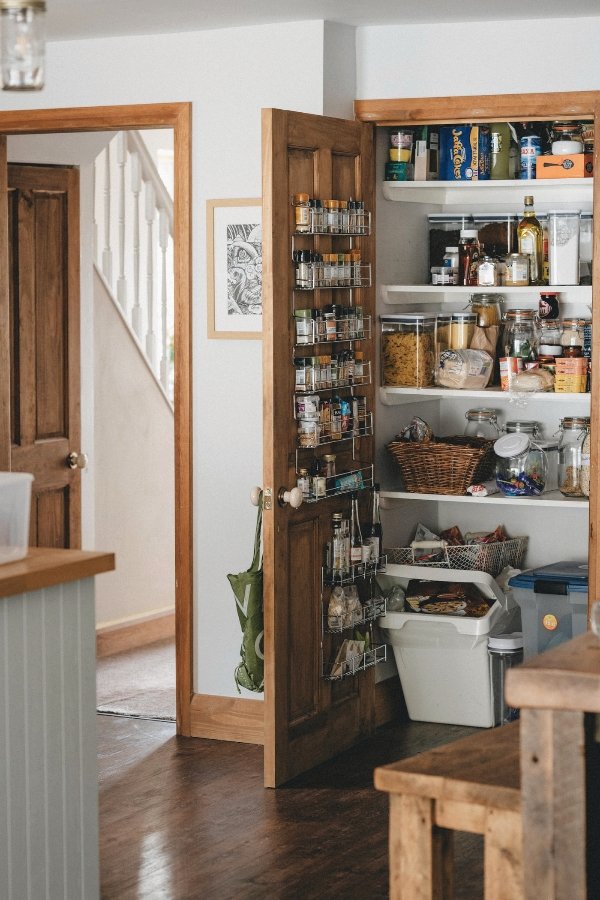 Vinegar and Oils
A little goes a long way with vinegars and oils! I love adding a splash of balsamic to my Instant Pot Penne recipe or drizzling some olive oil over a hot bowl of soup. Vinegars and oils are a great addition to any recipe – giving your meal a little extra flavor.  Here are a few acids and fats on the list that are always in my pantry!
Vinegars
Oils
Low Sodium Sauces & Condiments
Pantry Staple Nuts and Seeds
One of our favorite snacks! I love a handful of nuts in the afternoon when I am feeling a little hungry. Nuts are great to add to baked goods (brownies + walnuts are the best combo!), to savory meals (topping a homemade Pad Thai with some peanuts adds crunch), or great to turn into nut milks.  The only caveat is that nuts have a slightly shorter shelf life than other ingredients on this list because of their high oil content. So make sure to store these in a cool dry place, or in the refrigerator.
Pantry Staple Drinks & Beverages
There are a lot of great beverages and drink options to keep in a dry pantry!  Coffee, teas, juices, and almond milk all have delicious shelf-stable options.  And I'm adding wine to this list too because I love cooking with wine (and I even use some in my recipes too, ha).  Below are some great options that we always have on hand in our pantries and cupboards.
Organize Your Salt Free Pantry!
I use a lot of mason jars and bulk containers to keep some of our beans and grains fresh. Airtight containers are great for bulk bags of rice, flour, or sugar that you buy!